Warning
: file_get_contents(): php_network_getaddresses: getaddrinfo failed: Name or service not known in
/home/crdoc/public_html/conversion-blog/wp-content/plugins/digg-digg/include/dd-class.php
on line
1745
Warning
: file_get_contents(http://feeds.delicious.com/v2/json/urlinfo/data?url=http%3A%2F%2Fwww.conversiondoctor.com%2Fconversion-blog%2Fthis-guy-robbed-me-blind-and-im-cool-with-it): failed to open stream: php_network_getaddresses: getaddrinfo failed: Name or service not known in
/home/crdoc/public_html/conversion-blog/wp-content/plugins/digg-digg/include/dd-class.php
on line
1745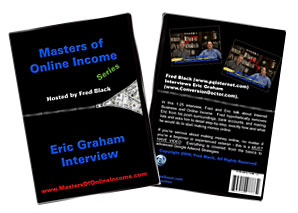 I just wanted to tell you about something one of my clients just did…
A few months ago he took me up on an offer to spend the full day with me for a VERY discounted rate.
Part of that deal was that he got the rights to record all or part of the day and sell it as a product (and keep 100% of the profits.)
Well… Guess what? This guy actually took action and did it!
He set aside part of his day with me to record a special video interview where he held my feet to the fire and extracted some of my BEST stuff from me, right there on camera.
His name is Fred Black, and he got me to share some stuff that I've NEVER shared before in public.
And Fred has just released the full video in DVD format.
http://www.MastersOfOnlineIncome.com/
On this DVD he got me to share EXACTLY, step by step how I would re-build my online empire if I had to start over tomorrow from scratch, with no list, no product, no JV partners and no money.
If you are just getting started online, (or if you've been marketing online for YEARS and are just looking for a few new tips, tricks and tactics), then you need to grab your copy of this DVD right now!
http://www.MastersOfOnlineIncome.com/
Now I' not making a dime off of this. Fred is keeping 100% of the sales of this DVD, I'm not even getting an affiliate commission.
I'm simply promoting this to help Fred, and because of course I believe in the product. (I'd better!)
(I mean, isn't that refreshing… An expert actually promoting a product on his blog or to his list because he actually believes in the content, and thinks it will help his readers, not just for a big fat commission check?)
I don't know maybe its just me… 😉
Now one thing I am a bit frustrated with Fred about is the price of this thing. If you've been following me for any length of time, you know that my advice, products and services are NOT cheap.
I charge (and GET) top dollar for my information and advice. And I get top dollar because NOTHING I teach is based on theory. I've actually DONE, TESTED and PROVEN, everything I recommend.
So when I found out he was selling almost 2 hours of my time and closely guarded secrets with the world for only $97, I was a bit disappointed. Personally I think he has WAY underpriced the value of the info on this DVD.
But THEN… When I found out he was doing a 50% off introductory special on the DVD, I knew he was nuts!
So his (and my) loss is your gain. According to Fred, if you grab your copy before midnight today (Monday), you get the entire DVD, for only $47.
http://www.MastersOfOnlineIncome.com/
Also, I've decided to do something special just for you…
(Now Fred doesn't know I'm going to do this…) But if you grab your DVD from Fred TODAY during his special offer, I'll let you in on an exclusive Q and A webinar I'm doing in the next couple of weeks.
Just forward your receipt after you buy to "eric@conversiondoctor.com" and I'll make sure you get in on the webinar' absolutely free.
I have not even announced this webinar to anyone yet, and when I do it will cost $47 to attend.
So grab YOUR copy, forward me the receipt and I'll send you your webinar invite as soon as I announce the webinar to everybody else.
http://www.MastersOfOnlineIncome.com/
And even if you don't want the DVD, you need to take a look at the page because Fred has included (for free) about 10 minutes from the DVD where I share some great information.
So watch the video right now:
http://www.MastersOfOnlineIncome.com/
PS – Take a look at what copywriter Ryan Healy had to say after watching the DVD:
"Fred's style of interviewing is simple and down-to-earth. And his interview with Eric Graham is absolutely worth watching, especially if you're confused about how to make money online. Question: Ever wondered what an online millionaire would do if he had to start over and build an online business from scratch? Watch the interview to find out."

-Ryan Healy
http://www.MastersOfOnlineIncome.com/
About the Author
Eric Graham is a serial entrepreneur, author, speaker, copywriter and consultant. Enter your name and email address below to get notified when new response boosting tips, tested conversion strategies, updates, articles and videos are posted.
You'll also get immediate access to a powerful 90 minute Conversion Boosting video as a free gift for signing up (and a lot more!)
And while you're here, go ahead and
follow Eric on Twitter!
Claim Your FREE Conversion
Boosting Video!
Fill out the form below and you'll immediately receive (via email) full instructions on how to watch this powerful recording!
Related posts: