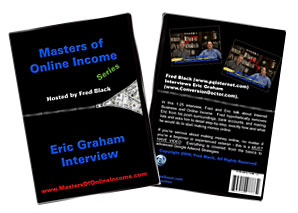 I just wanted to tell you about something one of my clients just did…
A few months ago he took me up on an offer to spend the full day with me for a VERY discounted rate.
Part of that deal was that he got the rights to record all or part of the day and sell it as a product (and keep 100% of the profits.)
Well… Guess what? This guy actually took action and did it!
He set aside part of his day with me to record a special video interview where he held my feet to the fire and extracted some of my BEST stuff from me, right there on camera.
His name is Fred Black, and he got me to share some stuff that I've NEVER shared before in public.
And Fred has just released the full video in DVD format.
http://www.MastersOfOnlineIncome.com/
On this DVD…
[…]